February 14, 08
In his March issue, Revolution, the 1st Canadian magazine for custom bikes
is featuring on 6 pages Cyril Huze with his most recent custom bikes.
The magazine is published in English & French.



January 07, 08
Our Chopper called Peacemaker is featured in the February 08 issue
of Easyriders Magazine already in newsstands.





August 06, 07
Under the headline "Cyril Huze Engineering", the August/September issue of
Bikers Life Magazine in Italy is featuring 2 of our customs. The bobber "Kiss My Wheels"
and the radical bike "El Mirage".





July 17, 07
Our Custom Harley Fat Boy Silverado is the cover story of the August/September
issue of American Iron Magazine. Now in newsstands





June 30, 07
Our Bobber Bombshell is featured in The August issue of the German
Magazine Dream Machines.





May 7, 07
Our Bobber "Kiss My Wheels" is featured in the June issue of Easyriders Magazine. The bike was inspired to Cyril by a song of the band The Byrds called "Truck Stop Girl". This Bobber is a multi-winner in the bike shows of Daytona Bike Week and of Las Vegas Bikefest. It is also featured on the cover of the best seller hard-cover book named "Art Of The Bobber".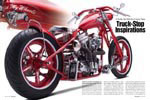 May 2, 07
Our Bobber "Bombshell" will be featured in the July issue of Dream Machines in Germany.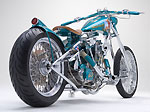 April 19, 07
Our bikes America, Bombshell, Kiss My Wheels & El Mirage are featured in a special 10-page feature with a long interview of Cyril in the March issue of Easyriders Magazine, German Edition.





February 15, 07
After being featured in the US, our 40's looking bike "The Bravest" is now doing a worldwide tour of foreign motorcycle magazines. This month the bike is published in France & Italy in Freeway Magazine.





January 10, 07
Our bike Bombshell was chosen by KLM Airlines for a feature in the March 2007 issue of their in-flight magazine called Holland Herald. Bombshell will be presented with a selection of the most highly desirable products in the world aimed at the rich & famous. Holland Herald in-flight magazine has a print run of 150,000 copies per month and is offered to passengers in all KLM planes traveling all over the world.





December 10, 06
The "Bravest", the firefighter theme bike that we built to benefit the IAFF
(International Association Of Firefighters) Burn Foundation, is on the cover
and centerfold story of the 2007 January/February issue of Barnett Magazine.
The bike has a vintage look and features authentic firefighter apparatus
from the mid 40's. Now in newsstands.





November 28, 06
Our new Bobber called "Bombshell" is the cover and the centerfold story
(Jonesing With A Huze Custom) of the January 07 issue of American Iron Magazine. Available now in a newsstand near you.





October 23, 06
On Saturday Oct 21st, during Daytona Biketoberfest, Cyril Huze was inducted into the Hall of Fame by IMBBA (International Master Bike Builders Association).
In the Hall Of Fame, Cyril Huze joins fellow Master Builders Arlen Ness, Indian Larry Legacy, Dave Perewitz, Matt Hotch, Eddie Trotta & Aaron Greene. "Craftsmanship comes from the heart...not just from the parts".





October 17, 06
We just completed a custom Harley Davidson Fat Boy called "Silverado"
for a client based in England. "Silverado" was already picked by HD Europe to tour on their display. See it in Custom Harleys





October 05, 06
In addition to designing parts, bikes & traveling the country to show them, I have decided to offer the custom motorcycle community a place where I can share with you thoughts, news, and all other things reated to my passion. I needed a Weblog: an online place allowing publication on a whim, when the mood strikes, when the influential people talk, when a new part is released, etc. A place permanently updated by me and by you through comments. Hence, the Cyril Huze Blog: one of the first places to look for reactions to the happenings of the day in our industry and in all areas of interest.
Please, visit my Blog





September 1, 06
During the IAFF Convention (International Association Of Firefighters) held in Toronto Canada, President Harold Schaitberger honored the 2 custom bikes Peacemaker & The Bravest designed & built by Cyril Huze and commissioned by Lynnco. The Peacemaker bike was conceived by Cyril in memory of the late Mattie Stepanek, author & former Muscular Dystrophy Association Goodwill Ambassador. Cyril Huze also designed and hand fabricated The Bravest, a new vintage looking bike to reflect the entire fire fighters profession. The Peacemaker bike will appear Sept.3/4 on CBS during the MDA Telethon anchored by Jerry Lewis, then will be auctioned. The Bravest bike will be raffled to a firefighter in March 07 at the IAFF Legislative Conference in Washington DC. Proceeds will benefit the Burn Foundation. To see these 2 bikes click here.





August 23, 06
The Bobbers of Cyril Huze are featured on the cover and inside the new hard cover book "Art Of The Bobber". Before choppers, there was the bobber. As these lean, mean machines come roaring back onto the scene in a big way, this book offers a look at where the bobber came from, where it's going, and what it's all about. With over 200 exclusive photographs of the most cutting-edge bobbers and biographies of the men and women who build them. This edition includes a poster on the reverse of the book's jacket. 224-page. To be released November 15. Reserve your copy signed by Cyril by clicking here.





July 17, 06
The June issue of Russia "Russian Riders" magazine dedicates a full feature article on our chopper Peacemaker. The bike was built by Cyril to help raise money for MDA (Muscular Dystrophy Association).





July 10, 06
England calling. Marcus Schmidt contacted us to build a custom bike to show & ride in Europe. It's 10 years that we already sell custom parts all over the world, including in places we have difficulties to locate on a map, but it's the 1st time we are commissioned for a full custom for a client living abroad.
The bike will be called Silverado. Thanks Marcus.





July 5, 06
We just completed "The Bravest" a new vintage looking bike to benefit the IAFF (International Association Of Firefighters) Burn Foundation. Fire truck red, solid brass, diamond plate, paint on polished aluminum, authentic fire fighting accessories from the mid 40's make this project absolutely unique.





June 28, 06
Our chrome frame chopper called Viva Texas is featured in the June issue
of Freeway Magazine.





June 16, 06
Look for close up details of our bike "El Mirage" in the new Easyriders Swimsuits Calendar to be published this Summer.
The blonde deserves a close up, too.





June 09, 06
Camera in your face: A TV crew from the show El Garage is at our shop to shoot the full assembly of one of our new customs.





June 02, 06
Look for our most recent Bobbers "Bombshell", "Kiss My Wheels", "Graffiti"
and "Sexeee" to be featured in the new hard cover book "Bobbers" written by Spencer Drake and Judith Salavetz. Released in the Fall, the cover will feature "Kiss My Wheels"





May 26, 06
A dedication to WW2 airplane nose art, our Bobber "Bombshell" is completed.
A pinup goes to war. Pretty deadly for the enemy.
See it by clicking picture.





April 30, 06
For its special 35th Anniversary issue, dated June, Easyriders magazine
picked our bike "El Mirage" to be the 6-page centerfold feature.





April 21, 06
The May/June issue of the Robb Report Motorcycling is featuring a close up
on Cyril and a presentation/explanation of his "moto couture" style.





April 7, 06
AMD (American Motorcycle Dealer) USA/Europe is featuring our very radical bike "El Mirage" in its June issue.






« View News Archive